When planning any sort of construction project you want to consider carefully how you are going to manage water.  For most construction projects, water is at worst an enemy, and at best a problem that needs to be dealt with in order to ensure enjoyment and a long life for your project.
One tool available to help manage water is a category of waterproofing materials called drainage membrane.  Drainage membranes might be made of different types of plastics, rubbers, and composite materials. Further, they might be placed inside a project or outside, depending on their exact specifications and what is needed for the work.
Wrapped exterior membranes
One type of drainage membrane wraps around the exterior of a poured concrete wall. In this case the membrane is designed to keep water away from the foundation. It does this by allowing water to flow freely through holes or in air pockets created by dimples in the surface of the material. This flowing water moves quickly away from the surface, keeping the concrete beneath it dry and safe from freezing, cracking, and seeping.
Interior lining membranes
Another type of drainage membrane can go inside an already leaking or seeping foundation. This membrane is not built to protect the foundation, but is instead designed to keep the space inside liveable and mold free. By capturing the water and directing it where it can be managed, like into a fabricated drainage system, water can be directed outside and into sewer or stormwater systems. By controlling water flow, the interior space is kept dry and can be used for whatever the owner wishes: living space for a family, dry storage for a business, or more.
Exterior underlayment
For patios and play surfaces such as football fields, drainage membranes serve an important role that doesn't necessarily mean keeping things dry. In this treatment, the goal is not to prevent water from reaching an artificial turf surface. Instead, the goal of this underlayment is to absorb and redirect the water to prevent the field or patio from becoming a puddle or a pond. This keeps the space safer by reducing slips and also helps to extend the life of the work.
For your next project, consider how water will affect the work over the lifetime of use, and then choose wisely how you will manage that water. You might find that one of our Mar-Flex drainage membranes is a perfect fit to meet your needs.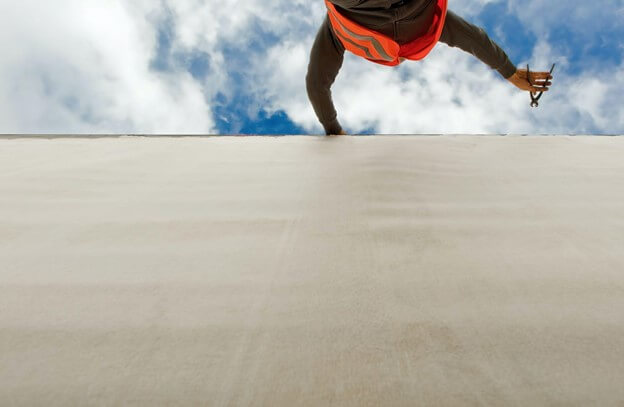 A membrane protects the wall behind it. Photo by Ricardo Gomez Angel on Unsplash