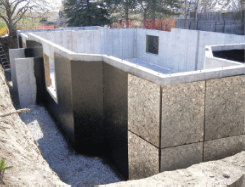 PLATINUM LEVEL WATERPROOFING PROTECTION SOLUTION
Mar-flex TopGun Drainage & Protection Board is a semi-rigid board made from a blend of 70%
recycled synthetic fibers; its unique design
promotes protection and effective water drainage while still retaining the board's R-Value.
PURPOSE
The TopGun Board, when installed from the footing to the sill plate, addresses a major source of energy
consumption, the conditioned but un-insulated
basement and lower levels of a home.
The TopGun Board acts as a drainage medium to channel
ground moisture away from the structure's foundation
and into the building's drain tile system.
The TopGun Board also is designed to protect the
Mar-flex waterproofing membrane, especially during
backfilling and other construction activity.
New Residential Warranties available from 20yrs to Lifetime depending on membrane used. 
New Residential Lifetime Warranties available when using TopGun Membrane.
ADVANTAGES
• Available in thermal values/thickness of: R-3 =.75" Thick
R-5=1.1875" Thick, R-10 =2.375" Thick and R-15=3.5″ Thick
• Meets the needs of builders, energy conscious homebuyers
and/or local building codes
• Combines high R-value, drainage, and protection into one product
• Excellent drainage
• Easy to handle, no irritation like most Fiberglass products
• Easy to install
• Can be used in any geographical area
.75″- R3                 Part# DM-48375  3'x4′ sheets 64 sheets/pallet=768 sqft
1.1875″- R5           Part# DM-48400  3'x4′ sheets 40 sheets/pallet=480 sqft
2.375″ – R10          Part# DM-48425  3'x4′ sheets 20 sheets/pallet=240 sqft
                             *Part# DM-48450  4'x8′ sheets 20 sheets/pallet=640 sqft-*Full Truckload Only
3.5″ – R15             *Part# DM-48475  3'x4′ sheets 12 sheets/pallet=144sqft-*Full Truckloads Only